Jonathan Chomko (b. 1988, Canada) is an artist working with and against technology. His works examine the seam between physical and digital worlds, exploring how digital forces translate into and act upon the physical world, and how physical phenomena and expression are modulated as they enter the digital.


Recent News

Proof of Work Blue Duration Sale Opens June 11
https://proofofwork.jonathanchomko.com/
www.grindruberairbnb.exposed (video), Networked Bodies, supernormal.space, Singapore
Jan 21 - Feb 7 2021

Relative Clocks, We The Curious, Bristol (UK)
Nov 5 2020 - 2028

Relative Clocks, CUBE Design Museum, Kerkrade (NL)
Jun 5 2020 - Oct 5 2020

Shadowing, Theatre du Chatelet, Paris (FR)
Nov 28 2019 - Feb 1 2020
A Heart from Space
participative performance, 2020
website, phone, GPS

A Heart from Space is a website that enables a group of people to draw shapes together using their GPS positions.

Performing the work requires the participants to negotiate the dynamics of group collaboration through the website, adjusting their position in response to the movements of the group to collectively create a heart.

The project originated from a conversation with Yo-Yo Ma around a performance of a previous work, www.grindruberairbnb.exposed (GUA). GUA explores the topic of networked action by providing each participant specific gestural instructions, which create synchronized movement in the group. Upon learning about the functions of GUA, Mr. Ma asked if the system might be used to arrange hundreds of thousands of people across the midwestern United States, to form a heart that would be visible from space.

This project grew from that optimistic vision, but places a focus on emergent collaboration, rather than coordinating movements at scale. In doing so, the project raises a question of how the affordances of a platform shape what is possible; how design decisions necessarily exclude certain possibilities while making others readily accessible.

The 'space' of the title speaks both of the physical ground participants cover in engaging with the work, as well as the top-down shared perspective that allows them to see the product of their efforts. These dual meanings point toward the key message of the work; that the ways we see ourselves online can shape what is possible in the physical world.

Visit the website here: www.a-heart-from-space.com













Credits
Inspiration: Yo-Yo Ma
Video: Isaac Vallentin


Human / Computer
manually generated images, 2021
software, keypresses

Human / Computer is a series of manually generated portraits. Each sitter enters 10,000 digits between 0 and 9 into a custom software, each keypress setting the gray value of an single pixel in a 100x100 grid.

The sitter is given the aim of entering random values, but inevitably fails to enter true random values, resulting in visible and unique patterns in each image; a record of their labor and affective state during the process of production.


Colour Time
website, 2020

A frame of slowly changing colour.

The change is slight enough that it is perceptible, yet is slow enough that it is hard to see the change as it occurs. The change is perceptible primarily when the eye becomes saturated with colour; the eye detects the change but the retina is overstimulated, so the colour one sees is a combination of a complementary after-image and the actual colour.

This struggle is a physiological response to visual overstimulation; they eye's response is to try to move the overstimulated area to a fresh area of the retina, which creates frames of the previous colour around the current hue.

For best results, give it some time and let the eyes lose focus.

https://www.colour-time.com/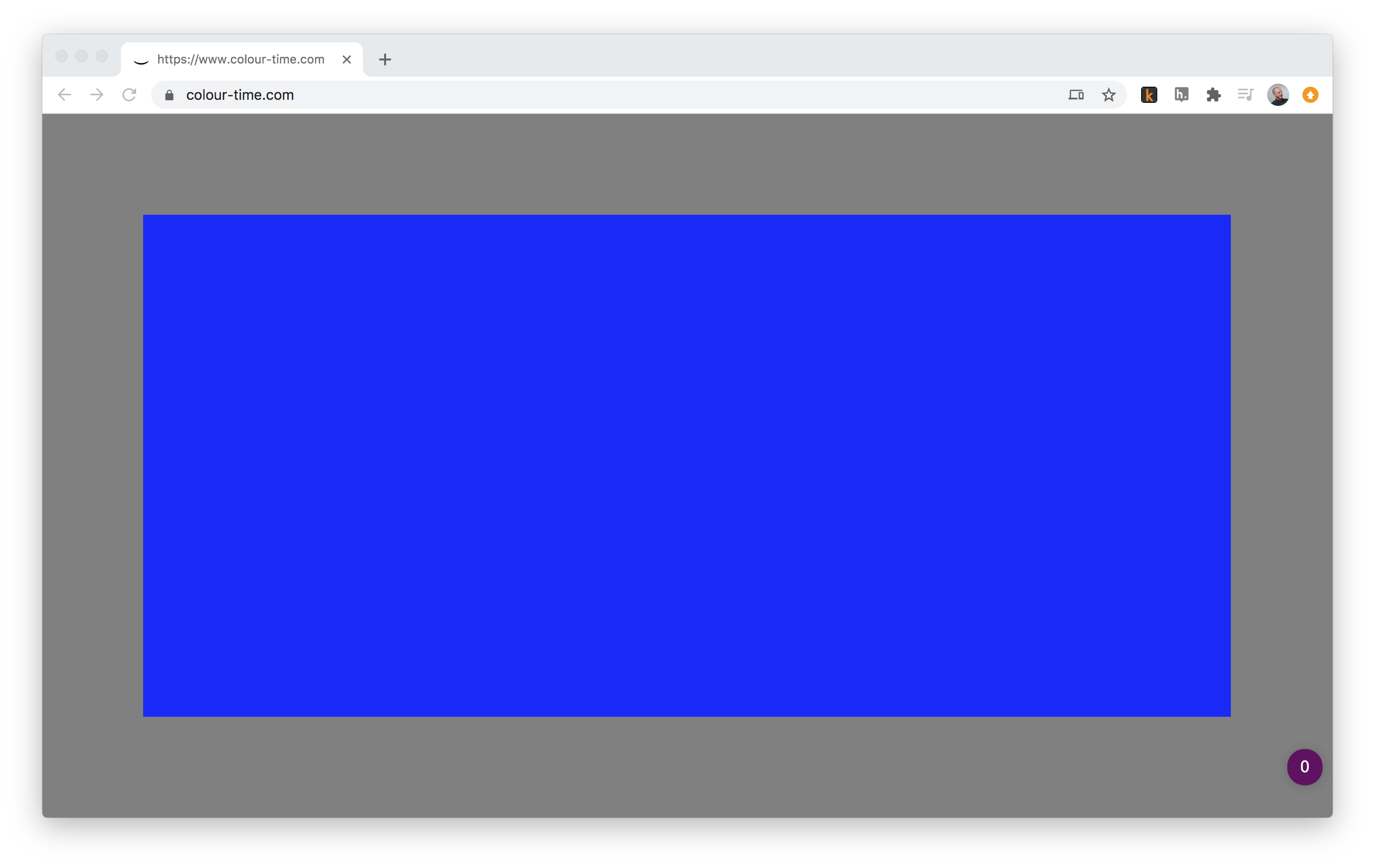 www.grindruberairbnb.exposed
participative performance, 2020
website, phone, participants

www.grindruberairbnb.exposed leads participants in choreographed performance via their phone. Accessing the website via smartphone, participants are guided in series of gestures and actions. Viewed together, these movements create a cohesive and synchronized performance.

The name concatenates three digital services that choreograph bodies, vehicles and real estate from a digital vantage, with the top level domain .exposed playfully promising to reveal the nefarious acts of these entities.

While condensing an image of networked control, the project aims also to present a vision of a group of atomized actors acting as one; raising the possibility of the network as a tool for large-scale collective action.